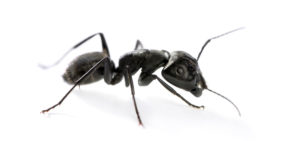 Getting Rid Of Ants
Ants are the number one pest problem in the world. They are attracted to food, and they can enter your home through even the tiniest cracks. Ant hills on your property can be just as problematic, especially if you're dealing with a species like carpenter ants. Whether you have ants inside your home or on your property, getting rid of them should be a top concern.
Ant Appearance/Identification
In the United States alone, there are 1,000 known ant species. They vary in size and color. Generally, they may be red, black or brown. Ants have six legs and a segmented, oval-shaped body. Male ants are winged, but female do not have wings.
Behavior, Diet & Habits
Generally speaking, ant colonies consist of a queen, workers and soldiers. Individual colonies can contain thousands, even millions, of individual ants. Many species are omnivorous and are attracted to sweets, fruits, vegetables and other types of food. Some types, like fire ants, sting. Ant stings can cause moderate to severe pain and swelling that can last several days.
Life Cycle
Ants have a life cycle consisting of four distinct life stages: egg, larvae, pupae and adult. It may take several weeks or even several months to complete the life cycle. The exact length varies depending on environmental factors and the ant species.
Signs of an Infestation
A few ants crawling around your pantry or kitchen may not be a major problem. If, however, these ants are coming from a colony inside your walls, the issue may be serious. If you have ants living inside your walls, you may be able to hear insect activity if you press your ear to the wall and listen carefully.
If you see lines of ants inside or outside your home, or if you see an ant hill in your yard, you are dealing with an infestation that needs to be addressed.
How to Get Rid of Ants
Ants can be difficult to get rid of. Many do-it-yourself approaches are ineffective because they only kill the ants you see, not the ones living in the nest. Home remedies also don't account for the numerous types of ants and varying requirements for control.
If you have an ant infestation, your best option is to call your local pest control professional. For help dealing with ants in your home or on your property, give us a call today.